Capacitors Factory since 1989
Dingfeng Capacitor -- How to Select a Motor Run Capacitor?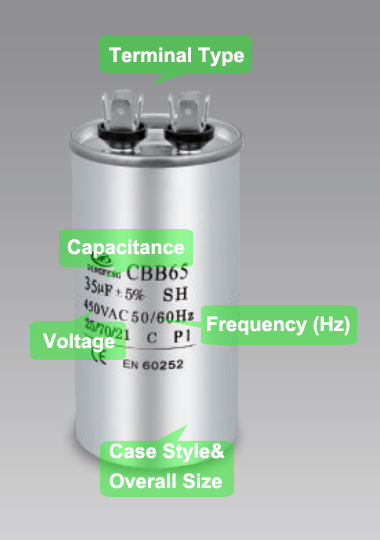 Voltage: Select a capacitor with a voltage rating at or above the original capacitor. If you're using a 370 volt capacitor, a 370 or 440 volt capacitor will work. The 440 volt unit will actually last longer. A run cap will have a marked voltage indicating peak voltage acceptable - not operational voltage.
Capacitance: Select a capacitor with a capacitance value (given in MFD, uf or microfarad) that is equal to the original capacitor. Do not deviate from the original value, as it sets the operational characteristics of the motor.
Frequency (Hz): Select a capacitor with the Hz rating of the original. Nearly all will be labeled 50/60.
Case Style: Round or Oval? Round capacitors are by far the most common, but many motors still use oval designs. Electrically speaking, there is no difference. Fit is the only question here. If space in the mounting box is not limited, the case style does not matter.
Overall Size: Just like case style, overall size makes no difference electrically. Select a capacitor that will fit within the space provided.
Terminal Type: Most capacitor terminal designs include 1-4 ¼" push on tabs. Nearly all run caps that TEMCo offers have either 3 or 4 tabs. Just make sure you have enough tabs per connection post to make the connections you need.
Capacitor manufacturers look forward to your consultation
E-mail/Skype: info@dfcapacitor.com
Tel/WhatsApp: +86 15057271708
Wechat: 13857647932
Skype: Mojinxin124